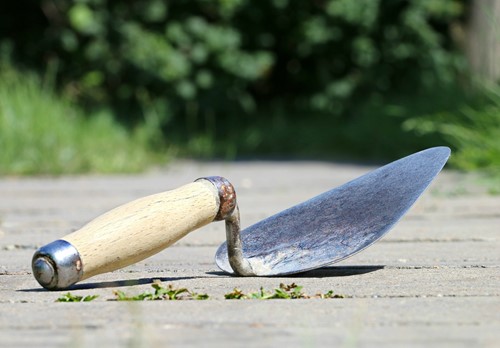 Sometimes the idea of a large backyard with a perfect lawn doesn't balance a homeowner's desire for functionality. When people want to spend more time outdoors, they typically hire contractors to build wooden decks of brick patios. One best-of-both-worlds trend involves using finished concrete to blur the lines between indoor and outdoor livings spaces. Both new construction designs and existing homes can benefit from the cost-effective and creative use of modern concrete floors.
Indoor-Outdoor Concrete Floors in New Construction
Concrete slab foundations are widely considered the most cost-effective option for single-family homes. Contractors dig along the perimeter to pour footings to meet building code requirements. The common depth usually runs 12 inches below the frost line or previously undisturbed soil. Wire and rebar are then laid out, and when the slab foundation is complete it can be anywhere from 4 to 6 inches thick.
One of the strategies new construction home buyers can leverage is extending the slab beyond the anticipated interior living space. It may come as something of a surprise, but a structure does not necessarily have to set exterior partitions along the edges of a slab. The area not used for inside space becomes a patio by default. One caveat that home builders may want to account for is water runoff. It's advisable to drop the outdoor portion below the home's grade and ensure rainwater flows away from the structure.
Indoor-Outdoor Concrete Floors in Existing Homes
Perhaps the two most direct ways to employ concrete to seamlessly blend indoor-outdoor floors are abutting or creating a hybrid veranda-patio. The first technique brings a concrete slab up against an existing foundation. By abutting it to the existing slab or full-basement foundation, you have effectively created an indoor-outdoor floor.
The other method involves pouring a concrete veranda floor that expands further into the yard. This design proves beneficial in two ways. Families can relax under the roof of the veranda or venture out into the sunlight as they wish. You no longer have to negotiate wet grass, mud or worry about uneven lawn chairs on the grass. Outdoor gas grills can also be wheeled into the open-air space. People who like being outdoors gain more flexibility in terms of peaceful enjoyment of their grounds.
What You Need to Know About Modern Concrete Floor Finishes
There are many innovative techniques and new technologies that have expanded the options for different concrete finishes. Buffing and polishing are two different finishing techniques to consider. A buffing machine employs quick rotating pads to smooth a concrete surface and produce a shine. Polishing, technically called "burnishing" rotates pads at a faster rate and skims imperfections off the top layer. A polished concrete floor can rival the aesthetic quality of marble in many cases.
Creative concrete also offers homeowners increased design and coloration options using dye. Given the wide range of colored dye possibilities, homeowners can re-imagine flooring in new ways. Concrete flooring professionals can also apply sealants and coatings that complete the transformation of ordinary concrete in inspiring floors.
Concrete remains a relatively inexpensive material that offers top-tier durability, longevity and traditional look. Homeowners interested in improving their indoor-outdoor living space and increasing resale values may find creative concrete flooring ranks as one of the most cost-effective solutions.