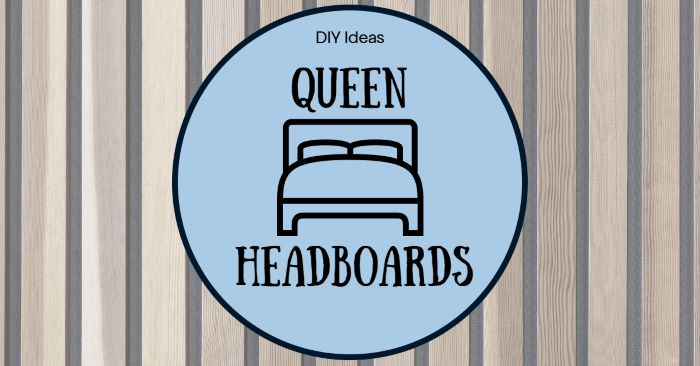 If your queen size bed frame needs refreshing, consider the many project options for DIY queen headboards. From midcentury modern to boho-chic, there are headboard ideas perfect for your bedroom or guest room. Using a variety of different materials, you can craft an amazing headboard simply and affordably.
DIY tile headboards
Penny tile is a fun and contemporary option for adding texture to a DIY headboard. You can purchase penny tiles by the square foot in sheets, which are simple to cut to size and shape. Clean and prepare your existing queen headboard and attach the tile sheets using tile adhesive.
DIY fabric headboard
You can use fabric to customize a headboard in multiple ways. One excellent DIY option is to create an upholstered headboard with your choice of fabric. Depending on the intended interior design style, you could use anything from burlap to crushed velvet to achieve the perfect aesthetic.
To create a simple fabric headboard, attach batting to a large piece of plywood. Using a staple gun or fabric glue, stretch the fabric across the surface. You can embellish the piece with contrasting trim or even a wood frame for extra drama.
Simple cutout headboard
A cutout wood headboard is an ideal project for making a big impact. For example, to mimic the appearance of playful bubbles, draw out an arrangement of circles on a piece of plywood. Saw out and sand the circles, then add a layer of your chosen wood stain or paint to finish it off.
Farmhouse style pallet headboard
Wood pallets are a popular choice for DIY furniture projects, and a DIY queen headboard is no exception. You can take the pallets apart to use the planks, or use the entire pallet itself. The first option grants more freedom in terms of style, but the unique open slats can make a bold, funky statement.
While these ideas are perfect for a queen bed, you can use the same techniques as inspiration for headboards of any size. Keep these style and material options in mind the next time you need a DIY furniture upgrade.